Years after escaping Bigfoot and at the other end of Minnesota from Grandpa's mink ranch, I sat one afternoon in a long line of cars that were trying to move from the county road we were on to the state highway. Traffic on the highway was unremitting; weekenders heading from their north woods lake cabins back to the Twin Cities made a steady stream that cars in my line could only break into at the rate of what seemed like one every ten minutes. Time dragged there in the car.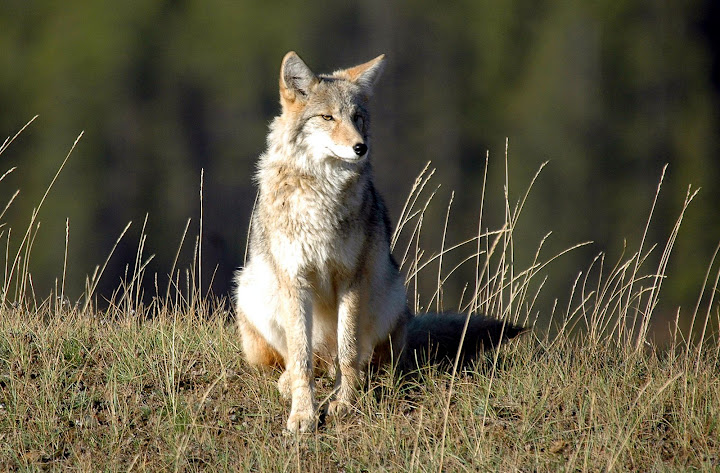 This photo can be found on the website
of David Locky whose last name sounds almost like
the Norse trickster Loki's.
A coyote sat on the embankment at the side of the road in the long grass at the edge of the treeline watching the cars with a newsman's smirk. As my car inched forward—wait, scratch that. As my car millimetered forward I stared at the critter there, thinking he didn't have it half bad and his ears perked at my thought and the smirk broadened into what I could have sworn was a human smile. The teeth seemed wrong for a canine, but before I could really be sure, he turned tail and bolted for the bush. What struck me at first as dog-like yipping seemed to morph into a cackling burst of undeniably human laughter. I found myself wondering if what I'd seen was a man dressed in a coyote skin or, even better, maybe he'd been a shapeshifter, a person in coyote form. Even cooler, what if it were a Coyote in person form dressed in a coyote skin.
Canis Latrans is what naturalists call the coyote, the laughing dog, and as quick as that laughing creature turned to the woods, I had a sudden, though ultimately unacted on, desire to escape my life and lead his. A long boring line of cars millimetering forward seemed an apt analogy for what was wrong with the modern world and I could turn from that and be coyote free—just abandon the car and take up with carrion. He laughed at me for a reason. He was telling me that one of us was free to run off into the woods and its many delights—tall trees, sweet berries, skittering chipmunks—while the other of us was stuck in his car listening to the engine idle. I can see the narrow track he disappeared down more clearly in my memory than I can see the color of the car I drove in those days. But I still can't recall his teeth all that clearly.
He was the first coyote I'd seen (in coyote form) since committing myself to studying the work that tricksters were doing in the work of American Indian writers like Gerald Vizenor, Thomas King, Louise Erdrich, and Leslie Silko. I was a graduate student in American Studies in those days and Coyote, I had learned in my research, is the trickster in dozens upon dozens of tribal literary traditions ranging over most of western North America from the high plains in the north to the desert Southwest and over into the dark woods of the Pacific Northwest (where he surely shared some turf with Bigfoot). Covering that range of territory, it was clear Coyote got around some and while it would have been more tribally appropriate in the woods of northern Minnesota for me to see Wenabozho, the trickster-culture hero of my Anishinaabe Indian ancestors, I was happy to see that coyote on that day in alien territory.
Tricksters and the stories about them existed in part, I'd learned, to help us understand what we value in life. Tricksters teach not with words, but by the direct example of their actions. The stories about them don't have morals, because morals are just words we can mouth and in mouthing them without reflection we hollow them out, reducing good stories and their inherent ambiguities to empty cant—dogma, when what we need is coyotema. Instead of morals, trickster stories contain teachings. We learn from the stories not by what they tell us, but by thinking about them longly, deeply, quickly, fleetingly—however we need to think about them at any given juncture in our lives. They form a type of critical consciousness and the story of that day teaches me that I should laugh at what's wrong with the modern world, the one that sees more power in millimeters than in coyotes. It also taught me that, despite the temptation of the woods, at the end of the day I should always head for home.